"O people, indeed the month of Allah has approached you with blessings, mercy and forgiveness. In the eyes of Allah, it is the best of all months, its days are best of all days, its nights are best of all nights, and it hours are best of all hours." -Prophet Muhammad (SAW)
Once again the Holy month of Ramadhan is upon us and we pray that the Almighty Allah (SWT) accepts our A'amaal and Dua's in this month.
Ramadhan Calendar
Daily Program
The main program for month of Ramadhan will start with Quran Khani, followed by Du'a and Lecture followed by Namaaz and Iftar.
More detailed information along with any program updates will be shared in the the Weekly Samachar.
Please note that no cars will be allowed to park in front of the MPC during the programs. Please follow all volunteer instructions when parking.
Guest Speakers
We're blessed to have our own resident aalim, Sayyid Muntadher lead us through the programs during the first half of Mahe Ramadhan. Shaykh Mostafa Akhound will join us during the second half of Mahe Ramadhan. We look forward to the opportunity to learn and benefit from their knowledge during this holy month Insha'Allah.
Sayyid Muntadher
Sayyid Muntadher began his Islamic studies at an early age at the same time as he was pursuing his academic education in the Arabian Peninsula. After relocating to the United States with his family, he continued his academic education and completed two years of college. He also continued his Islamic studies at both the introductory and intermediate levels (al-muqaddimat and al-sutuh al-wistah) and continues to further his seminarian studies through distant learning. He is a writer, researcher, and speaker who has lectured in both English and Arabic for over twelve years in several U.S. cities.
In 2012, he took part in the founding of the Fatimiah of Pittsburgh Islamic Center in Pennsylvania and served as a resident scholar and imam there for seven years.
He currently serves our Shia Muslim community of Minnesota as a resident aalim and also contributes to I.M.A.M. as a researcher and writer and answers fiqh questions by telephone and on the website.
Sheikh Mustafa Akhound
Sheikh Mustafa Akhound was born in the city of Isfahan, Iran, to a distinguished family known for its leadership, and dedication to serving Islam and the Muslim community. He studied 4 years in prominent seminaries in Qum, Iran and in Syria, and 4 years in holy city of Najjaf. When he was 14 year old, Imam Mustafa and his family migrated to the United States of America.
He grew up in Northern Virginia, where he began his academic studies. Imam Mustafa received his Bachelors in Religious Studies from GMU. Imam Mustafa speaks Arabic, Farsi, and English fluently and frequently lectures across the United States and other parts of the world, and is known for his ability to connect with and influence Muslim youth, especially those living in the West.
He strongly believes in the potential of the propagation of Islamic teachings and values, and therefore has committed himself to that cause. He is the Imam of one of the largest mosques in Northern Virginia, Imam Ali Center, In Springfield, VA.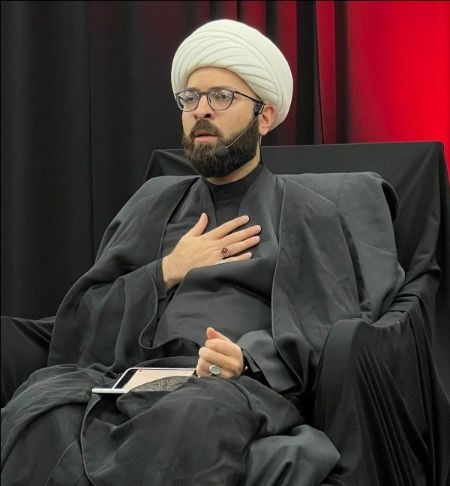 Ramadhan Fund
The Ramadhan fund is open. This fund is critical and allows the Jamaat to run programs that are rich and educational for the Holy month and helps to cover operating expenses until Muharram. For the Holy month, this fund helps pay for all the activities, Eid program, and gifts.
The goal is to raise $50,000 during the Holy month of Ramadhan this year.
We humbly request everyone to donate generously. You can give your donation to our Treasurer Br. Mohammedali Karim.
Click here to donate via PayPal
Ramadhan Iftaar Sponsorship
Inshallah we are planning on having Ramadhan iftaar every day of the week at our center. As in previous years, sponsors can bring the meal themselves or choose to donate towards the iftaar with the rates below:
Monday – Wednesday: $700
Thursday – Friday: $850
Weekends & Special Nights (15th, 19th, 20th, 21st, 23rd): $1000
Momineen are welcome to sponsor an entire night or join other momineen in partial sponsorship of a night. Additionally, one can also donate Dates and Water.
For the well being of members with allergies, all niaz sponsors are requested to refrain from using any ingredients that contain any form of nuts (including peanut oil, etc).
Please contact Sis. Kanizbai Walji at 763-486-6646 at your earliest convenience if you would like to sponsor an iftaar. May Allah SWT accept your good deeds and reward you in this life and the Hereafter.
Kids Workshop
Kids Program (8-12 years) Registration Link
Childrens' Fasting Calendar
Kid's Ramadhan calendars are now available. Keep track of how many fast your child (10 and under) has kept this Ramadhan and email to [email protected] by Thursday, April 12th to receive a small gift.

Please click here to download the Kids Ramadhan Fasting Calendar.
An Eco-Friendly Ramadhan
As part of an effort to reduce waste during the month of Ramadhan and protect the environment, we will be using glass plates and cups for Iftar and tea/drinks.