our vision
The Ja'afari Islamic Center enables its members to promote the values and practices of Islam for the spiritual, social, educational and economic well-being of the community.
Ja'afari Islamic Center exists to achieve the pleasure of Allah SWT by developing a spiritual and vibrant community based on the principles of the Holy Qur'an, the sunnah of the Holy prophet (SAW) of Islam and the teachings of the Ahlulbayt (AS).
Its purpose is to address the spiritual, social, educational and economic needs of its members and it strives to develop positive relationships with other Muslim and non-Muslim communities for the benefit of humanity as a whole.
our history
It is never easy leaving one's home, the place where one is born and raised, particularly when compelled to do so. Such was the case with the Asians who were forced to leave Uganda following Idi Amin's expulsion. Little did these people know then that the traumatic losses, which they incurred, would later result in the growth and prosperity of several communities in the West; one such community being Minnesota. The Walji family along with several other Muslim families settled in Minneapolis from Uganda in 1972. Brother Mumtaz Ali Sabur was already in Minnesota studying. Together they, alongside the Yusufali's, who settled in Minnesota in 1977 from Tanzania, bonded to establish a small community. However, it was truly by the persistence and endeavor of two great women did actual formation take place: Marhuma Fatimabai Walji and Marhuma Fatimabai Baga. These two women were instrumental in establishing Islamic gatherings in a foreign land such as observing Thursday night Du'as, Muharram Azadari, and other Islamic events. These occasions have always played a pivotal role in the lives of the followers; thereby, becoming the true reasons for the formation of a community.

From day one, Marhuma Fatimabai Walji ensured that these most significant events were honored. It was by her strength and determination that carried on the practice. Consequently, Thursday night majaalis were first held in the home of the Walji's. Hussein Walji who serves the community recites majaalis, marsiyas, kasidas, nawhas, and du'as. He has always captivated listeners with his vibrant voice, generating an environment ideal for worship. In continuation, the first majaalis of Muharram were held at the residence of Sabir Dairkee. Meanwhile, Marhuma Fatimabai Bagha, a family from amongst the Ahlul Sunnah, who had also arrived from Uganda, participated in these Islamic functions. The consequent Muharram majalises were held in their homes. Marhuma, who greatly encouraged many to participate, created a unity that will never be forgotten. Thus, this small but devoted group of people continued to observe different dates of the Muslim calendar together.

All the while, Minnesota had become known as an organized community under the name of Khoja Shi'a Ithna Asheri of Minnesota. Although, this association was not yet established with the state of Minnesota, it did facilitate as a communication tool between Minnesota and the rest of the Khoja communities.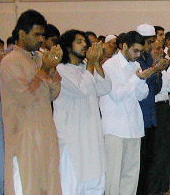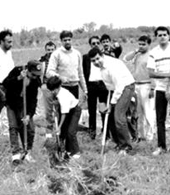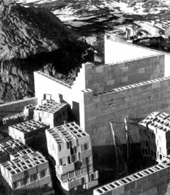 Thus, for over a decade majalises were held in the homes of people, where learned Islamic scholars such as Feroz Haider and Maulana Syed Shamim Sibtain Rizvi gave lectures. Also by then, additional families had arrived such as Abbas Pyarali, Ahmed Karim, Naushad Karim, and Zulfikar Najfi, to name a few. Because of the growing number in attendance, the gathering moved to Mounds View Community Center. Such gatherings drew Shi'as with diverse ethnic backgrounds; namely, Pakistan, Iran, Iraq, and other parts of the Middle East to attend. Hence, the cycle was repeated once again, as it were in Africa where the forefathers of these very people laid the seed in establishing a communion with their fellow brothers and sisters after leaving India.Years later, their progeny would continue on the tradition, but now the seed would be planted in the West. This seedling would then take root deeply in the ground and later sprout into a blooming community.
So when it became apparent that it was time to constitute a formal organization with the goal of establishing a center, Shabbir Yusufali persevered in registering the community as a religious organization in Minnesota under the name of Anjuman-e-Asghari. Secondly, they looked into purchasing several gravesites, of which 24 gravesites were purchased in January of 1987 and later expanded to 100 sites. All the while, more families settled in Minnesota such as Mohamed Remtula and Dr. Ansar Ahmed from Tanzania in the mid eighties.
Subsequently, for two years, the community of Anjuman-e-Asghari worked towards establishing a center, but to no avail until Roshanali Merali Dewji (marhum) of Vancouver, then Vice President of NASIMCO took personal charge. His help in attaining the goals towards a center has been invaluable. About the same time, Mohamed Remtula accompanied by Muslim Remtula, brought the project to the attention of World Federation. Finally, In 1988, the land to plant that seed for a brighter future was purchased. On the 3rd of Shaban, 1409 (March 11, 1989), the auspicious occasion of the BIRTH ANNIVERSARY OF IMAM HUSSEIN (A.S.) the cultivation was complete, Ja'afari Islamic Center was opened by the President of World Federation of KSIM Communities, Mulla Asgharali M.M.Jaffer.
Just as the jubilation of having one's own center can never really be fully expressed, neither can the gratitude for all those people who supported it. From the very beginning, the great Marja Ayatullah Khui (QS) granted his full support and encouragement for the building, and this community continues to receive the support of Ayatollah Seestani (may Allah swt grant him long life). The aid of World Federation, has also been immeasurable. African Federation, and regionally NASIMCO have contributed to this cause also. Furthermore, it cannot be denied that this project would not become a reality without the support of individuals, the local community, as well as the communities abroad such as Europe, East Africa, Dubai, and Muscat; along with communities in North America. Everyone had a hand in planting the seed in Minnesota, along with well wishers around the world. Yet, international assistance and encouragement would not stop there. One seed was planted but another would soon be nurtured, as the community of Minnesota continued to look towards the future. Their direct aims were the children. Naturally, while it is crucial to provide water and sunlight to a small sow in order to guarantee growth; Likewise, it is vital to educate young minds with Islamic knowledge in order to assure faithful individuals later on. With this understanding, it became essential for Anjuman-e-Asghari to begin training their children in Islamic precepts by holding Islamic classes.